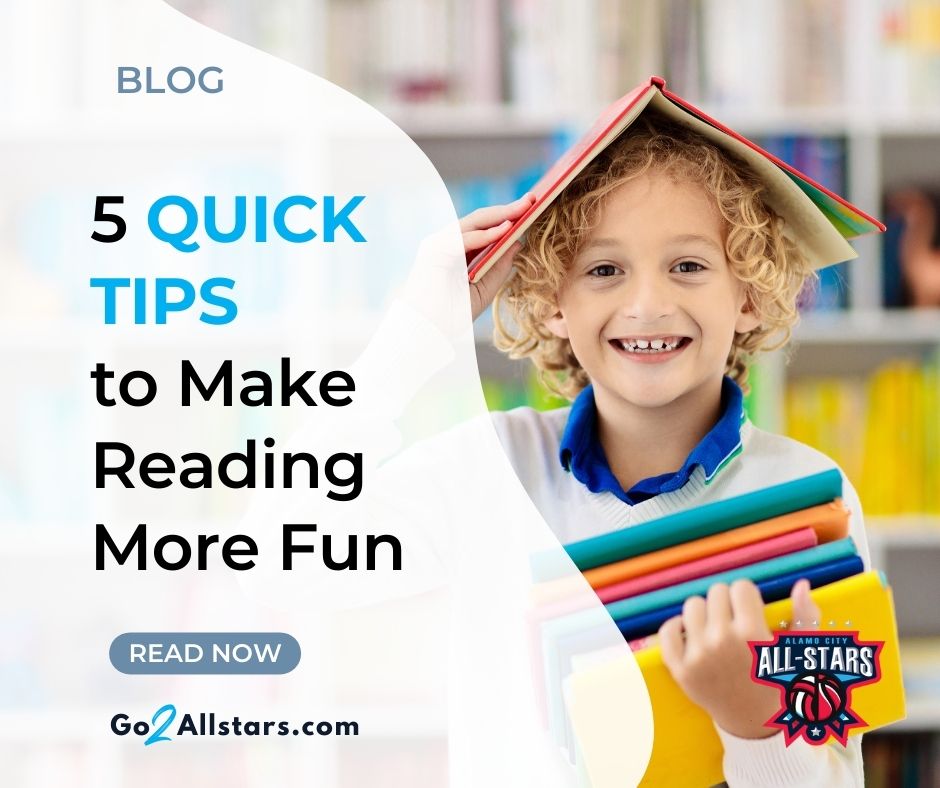 Reading is an important skill that kids should start at an early age. Unfortunately, you may find that your little one isn't so excited about sitting still long enough to get immersed in the book to make it fun.
Here are 5 tips for parents to make reading more enjoyable for your child as they find their inner, love for learning:
Get them involved by allowing them to pick out their own books. Take a trip to the library or bookstore and let them choose books that pique their interests.
Create a cozy reading nook with a comfortable chair, blankets, and pillows. Kids will enjoy snuggling up with a good book in a cozy space made just for them.
Try reading aloud together. This is a great way to bond with your child while also improving their listening skills.
Make reading a game by having them act out characters or predict what will happen next.
Reward them for reading by setting goals and offering incentives. Whether it's a small treat or a fun outing, kids will be motivated to read more.
The fact is, we live in a fast pace, distracted world these days. As parents, we are faced with the challenge that our kids are pulled in so many directions and most of the time we are unknowingly allowing bad habits to form. It's important to encourage quiet time with no distractions, not only to read alone, but also time to connect with you.
These simple tips can help turn reading into a fun activity that kids will look forward to if they are given the right tools and techniques. When they have the freedom to select books that interest them, have a cozy reading nook, or earn rewards when they reach their reading goals, learning and reading can even become an adventure.
The goal is to get them engaged in storytelling and reading. Once they find a love for children's books, they will want to read more and more. If all else fails, pitch reading as a game by challenging your child to a reading contest or scavenger hunt using books. Not only does this allow you to bond and connect with your child, it encourages enthusiasm for reading in a fun and engaging way.
Most important, if you make reading a chore or yell at your child for not reading, they will resist and not find reading a fun and enjoyable activity. Kids will be more likely to want to spend time with their nose stuck in a book if you use these fun tips to get them excited.
Here at Alamo City All-Stars Sportsplex, our 'Kid's Club' Afterschool Care & Camps, not only encourages learning, but it also incorporates the fundamentals of youth sports that helps your child to learn how to listen, how to be coachable and how to instill curiosity through games, activities and sports. Choosing a program that best suits your kid's interest will help them not only develop life-long skills, but it will also drive their thirst for learning.
Click the LEARN MORE button to find out more about our Grow For Success – Kid's Club Afterschool Care & Camp Program for kid's K-6th Grade. We offer transportation, light snacks and a variety of healthy activities and games so they can develop the skills they need to grow successfully.
###
At Alamo City All-stars Sportsplex, our mission is to help young athletes excel in sports! We offer a wide range of youth sports programming spanning basketball and volleyball, all conveniently located in the heart of San Antonio. Our 40,000 sq ft facility houses experienced coaches that specialize in the development of players aged 5 to varsity. With this expertise, our goal is to imbue confidence and skills that lead to future athletic success. Whether you're competing or learning sport fundamentals, gaining advanced skills or participating in fitness programs, we'll provide an inspiring environment that helps your child reach their full potential while having tons of fun. We also offer afterschool care, clinics, clubs and tournaments as well as seasonal camps that provide the perfect opportunity for aspiring athletes to grow and get the training they need; why not take advantage today? With state-of-the-art facilities and proven coaching methods, Alamo City All-Stars Sportsplex provides an unbeatable combination for fast tracking your child's entry into competitive sports – so don't miss out on the chance to help them find their inner champion!