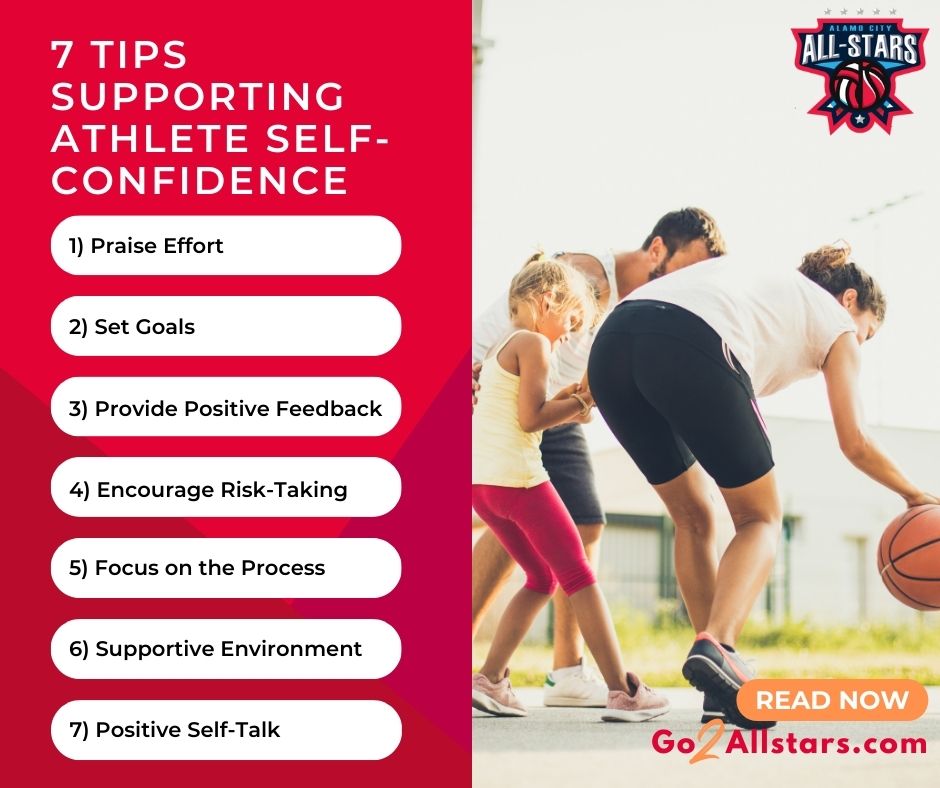 As a coach, it is essential to focus not only on the physical development of young athletes but also on their mental and emotional well-being. One of the key areas of focus should be to help develop their self-confidence. A young athlete with good self-confidence not only performs better but also handles pressure situations with ease. In this blog post, we will discuss seven essential tips for encouraging the development of self-confidence in young athletes.
Praise Effort – One of the best ways to develop self-confidence in young athletes is to praise their efforts rather than just the outcome. Emphasizing the effort put in by the athlete will help them understand that progress and improvement come as a result of consistent hard work.
Set Goals – Setting achievable goals is also a great way to develop self-confidence in young athletes. When athletes work towards a specific goal and achieve it, it instills confidence in themselves, and they are more motivated to set new goals.
Provide Positive Feedback – As a coach, it is crucial to provide positive feedback to young athletes. Giving them feedback on how they can improve is important, but it should be balanced with positive feedback that highlights their strengths.
Encourage Risk-Taking – Encouraging young athletes to take risks can also help them develop self-confidence. When they try something new or challenging and succeed, they feel more confident in themselves and their abilities.
Focus on the Process – As a coach, it is essential to focus on the process rather than just the outcome. When young athletes focus solely on achieving the outcome, they may get discouraged if they fail. However, when they focus on the process, they can see the progress they are making and the improvements they are making which is a great confidence boost.
Create a Supportive Environment – Creating a supportive environment that emphasizes teamwork and cooperation can also help young athletes develop self-confidence. When athletes feel part of a team that is supportive and working towards a common goal, they are more confident in themselves and their abilities.
Encourage Positive Self-Talk – Encouraging young athletes to practice positive self-talk can also help them develop self-confidence. When they talk positively to themselves, they build an inner self-belief system that helps them feel more confident in their abilities, even when faced with challenging situations.
Building self-confidence is critical for young athletes but with these essential tips, young athletes will be well on their way to developing self-confidence and achieving their goals.
"When you don't believe you can do it, your family will believe for you."
Youth Summer Camp is an excellent opportunity for kids to develop their confidence. With engaging activities and the chance to interact with peers, children can learn more about themselves and what they are capable of achieving. In this supportive environment, our campers can challenge themselves, try new things without fear of failure, and build skills that will serve them well in the future. We are confident that attending our summer camp will be a positive and empowering experience for your child.
###
At Alamo City All-stars Sportsplex, our mission is to help young athletes excel in sports! We offer a wide range of youth sports programming spanning basketball and volleyball, all conveniently located in the heart of San Antonio. Our 40,000 sq ft facility houses experienced coaches that specialize in the development of players aged 5 to varsity. With this expertise, our goal is to imbue confidence and skills that lead to future athletic success. Whether you're competing or learning sport fundamentals, gaining advanced skills or participating in fitness programs, we'll provide an inspiring environment that helps your child reach their full potential while having tons of fun. We also offer afterschool care, clinics, clubs and tournaments as well as seasonal camps that provide the perfect opportunity for aspiring athletes to grow and get the training they need; why not take advantage today? With state-of-the-art facilities and proven coaching methods, Alamo City All-Stars Sportsplex provides an unbeatable combination for fast tracking your child's entry into competitive sports – so don't miss out on the chance to help them find their inner champion!